Friend Kris Kristofferson presents plaque to Sonny commemorating
James' Induction Into the Country Music Hall Of Fame

On August 30th of 2006, the day it was announced Sonny James was to be an inductee into the Country Music Hall of Fame, Kix Brooks (Brooks And Dunn) probably said it best, "This is an artist who really dominated his time in history."
Similar accolades from fellow entertainers began early in James' career… Elvis Presley, from the best seller book "Elvis, Word for Word" was asked "who do you think's the greatest country and western singer that's alive today" his reply, "I like Sonny James".
---




SONNY JAMES BILLBOARD STATISTICS

According to Billboard statistics, for almost 20 years (1960-1979) Sonny James spent more time in the Number One chart position than any other artist in country music — a total of 57 weeks, including a 5 year period of Consecutive #1 Singles, a feat never before accomplished in Country Music, Pop or Rock 'n Roll.

A special thanks to Allan M. Miller, Our Three Sons Broadcasting for his research & efforts regarding the following statistics.

Top 15 Country Hitmakers 1960-1979:




ARTISTS & #1 HITS

---




ARTISTS & WEEKS AT #1

---

Conway Twitty:
28
Sonny James:
57
Merle Haggard:
24
Buck Owens:
44
Sonny James:
22
Merle Haggard:
43
Charley Pride:
22
Charley Pride:
41
Buck Owens:
20
Conway Twitty:
37
Tammy Wynette:
20
Tammy Wynette:
37
Loretta Lynn:
16
Johnny Cash:
33
Marty Robbins:
10
Marty Robbins:
30
Waylon Jennings:
10
Waylon Jennings:
26
Dolly Parton:
10
Bill Anderson:
23
Johnny Cash:
8
George Jones:
22
George Jones:
8
Loretta Lynn:
21
Bill Anderson:
7
Eddy Arnold:
20
Eddy Arnold:
7
Jim Reeves:
19
Jim Reeves:
6
Dolly Parton:
13





ARTIST & BILLBOARD RANKINGS

---




ARTIST & TOP 10 HITS

---

George Jones:
7237
Loretta Lynn:
47
Buck Owens:
6019
George Jones:
46
Johnny Cash:
5833
Buck Owens:
45
Merle Haggard:
5353
Merle Haggard:
44
Sonny James:
5207
Conway Twitty:
43
Loretta Lynn:
5204
Charley Pride:
38
Conway Twitty:
4989
Sonny James:
37
Bill Anderson:
4866
Tammy Wynette:
35
Tammy Wynette:
4253
Bill Anderson:
35
Charley Pride:
4107
Marty Robbins:
32
Waylon Jennings:
4102
Johnny Cash:
31
Dolly Parton:
4100
Waylon Jennings:
30
Eddy Arnold:
4033
Dolly Parton:
30
Marty Robbins:
4031
Jim Reeves:
29
Jim Reeves:
3984
Ray Price:
25
---
YouTube Playlist: The 26 #1 Hits of Sonny James
[Courtesy of Richard Custer]
Capitol Records released his signature song "Young Love" in late 1956. This giant hit became one of the most recognizable songs ever recorded. It was the first Traditional Country/Teen cross over record. Followed by fellow Capitol artist Ferlin Huskey's "Gone" and later Marty Robbin's "White Sport Coat".


LISTEN | SONNY JAMES – Young Love


LISTEN | SONNY JAMES – A World Of Our Own
---
Honors Received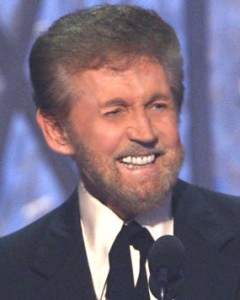 1961
Became the first country artist (recording division) to be honored with a star in the prestigious Hollywood Walk of Fame.
1962
Joined the world famous Grand Ole Opry.
1967
The honors continued when James would host the first CMA Award Show.
1960′s and 70′s
Named Male Artist of The Decade by Record World.
1987
Inducted into the Alabama Music Hall of Fame.
June, 2001
MALE GOLDEN VOICE AWARD
-Golden Voice Awards
November, 2001
MASTER ACHIEVEMENT AWARD
R.O.P.E. AWARDS
June, 2002
CAREER ACHIEVEMENT AWARD
-The Country Music DJ Hall of Fame and Country Radio Broadcasters, Inc.
August 30, 2006
COUNTRY MUSIC HALL OF FAME.