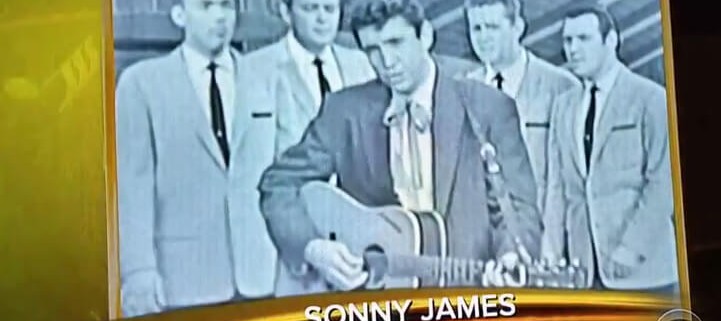 During the internationally televised Grammy Awards on Sunday, February 13, 2017 with a total viewership of 24.95 million the National Academy of Recording Arts & Sciences honored Sonny James by including him in not only their full textural listings of those who passed, but graciously included video and audio of Sonny performing "Young Love" during the televised broadcast. Sonny's performance video was respectfully placed between his Capitol Records peer and friend Merle Haggard and long-time friend and Elvis Guitarist Scotty Moore.
Truly, a gracious recognition of our beloved and dear friend whom we greatly miss.
Grammy Awards In Memoriam Segment Video:
---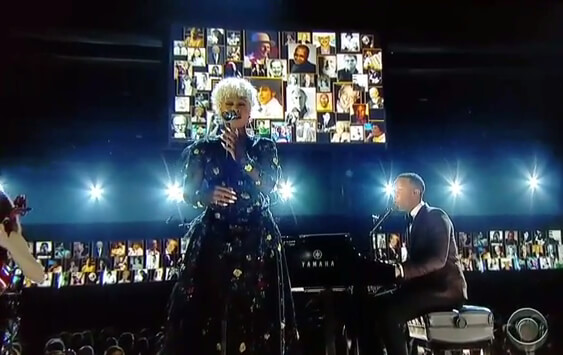 Source GRAMMY.com:
(The following is a list of 833 artists and industry professionals the music community lost in 2016–2017. The 59th GRAMMY Awards telecast on CBS featured an In Memoriam segment highlighting 53 of these individuals via a video tribute, and all of these individuals who died prior to Jan. 11 are included in the official 59th GRAMMY Awards program book. The Recording Academy salutes each individual for their respective talents and contributions to our culture and community.
Colonel Abrams
Achieng Abura
Tayssir Akla
Francis Akos
Edward Albee
Roye Albrighton
Michael Alexisch
Muhammad Ali
Peter Allen
Mose Allison
Tommy Allsup
Nicholas "Pumpkin" Alvarado
Ernestine Anderson
Herb Oscar Anderson
Jeff Anderson
Kevin Anderson
Lucas Anderson
Signe Toly Anderson
Lee Andrews
Guda Anjaiah
José Luis Armenteros
Brian Asawa
Joe Ascione
Cash Askew
James Atkins
Anahid Ajemian Avakian
David Axelrod
Bill Backer
Ernesto Baffa
Issa Bagayogo
Victor Bailey
Jimmy Bain
David Baker
Doug Baker
Lennie Baker
Koyo Bala
Mangalampalli Balamuralikrishna
Doug Banks
Mei Baojiu
Melhem Barakat
Gato Barbieri
Sunil Bardewa
Allan Barnes
Ken Barrie
Christopher Barriere aka Mr. 3-2
Tony Barrow
Cliff Barrows
Sherwin Bash
Leslie Bassett
Robert Bateman
Johannes Bauer
Robert Baustian
Mubarak Begum
Raj Begum
Remo Belli
Headley Bennett
Pascal Bentoiu
Leo Beranek
Jonathan Bernbaum
John Berry
Kendall Betts
Phoebe Binkley
Hayward Sherman Bishop Jr.
Roberto Bissonnette
Neil Black
Winston "Merritone" Blake
Ed Blau
Em Bohlka
Shannon Bolin Kaye
Paul Booker
Jimmy Borges
Bimba Bosé
Johan Botha
Gérard Bourgeois
Jim Boyd
Oscar Brand
Loalwa Braz
Bobby Breen
Buddy Bregman
Leo Brennan
Robbie Brennan
Carlos Brock
Corry Brokken
Clyde Brooks
Douglas "Swipey" Brooks
Bonnie Brown
Mar Brown
Paul Brown
Tommy Brown
Don Buchla
Irma Bule
Bill Bumgardner
Jon Bunch
Billy Joe Burnette
Pete Burns
Rusty Burns
Earl Solomon Burroughs aka Jack Hammer
Bobby "El Charro Negro" Butler
John Byrd
Steve Byrd
Joe Cabot
Denis Čabrić
Al Caiola
Lamar Dupré Calhoun aka DJ Crazy Toones
Harrison Calloway
Cecil Bustamente Campbell aka Prince Buster
Lecresia Campbell
Rey Caney
Charmian Carr
Inocente Carreño
Elisabeth Carron
Keith Carter aka Big Kap
Dave Cash
Michael Casswell
Geneviève Castrée
Donny Catron
Danny Champagne
Mike Chapman
Eric Charles
Charles Chaynes
Phil Chess
Steve "Tregenda" Childers
John Chilton
Grace Chinga
Rick Christian
Eddy Christiani
Gavin Christopher
Nelson Chu aka DJ Official
Barrelhouse Chuck
Franz Cibulka
Don Ciccone
Roger Cicero
Barrett Clark
Guy Clark
Joe Clay
Thomas "TC" Clay
Mikey Clement
Bob Coburn
Mac Cocker
Leonard Cohen
Ray Colcord
Daryl Coley
Benny Collins
Ray Columbus
John Conquest
Tony Conrad
Buster Cooper
Jerry Corbetta
Attrell Cordes aka Prince Be
Sergei Cortes
Tim Cotton
Wade Cox
Bob Cranshaw
Caroline Crawley
Clifford Crawley
Phyllis Creore
Tim Cretsinger
Pati Crooker
Connie Crothers
Dub Crouch
Clifford Curry
Phyllis Curtin
Bobby Curtola
Robert "Strängen" Dahlqvist
Jean-Michel Damian
Micah Danemayer
Dan Daniel
Mike Daniels
Raymond Daveluy
Ken Davidson
Peter Maxwell Davies
Bobby "Top Hat" Davis
Danny Davis
Dennis Davis
Ronnie Davis
Rorichannie Davis
Renée De Haan
Lupe De La Cruz
Gervase De Peyer
Nora Dean
Gloria DeHaven
John Del Carlo
Melina Dellamarggio
Paul Demers
Colin Demge
Daniela Dessi
Vinjamuri Seetha Devi
Harold Devold
Alirio Díaz
Richard Divall
Billy Dixon
Chelsea Faith Dolan aka Cherushii
Nina Dorda
Andrew Dorff
Elena Doria
Joe Dowell
Pádraig Duggan
Patty Duke
Anatol Dumitras
Lucille Dumont
Wayne Duncan
Holly Dunn
Stanley "Buckwheat" Dural Jr.
Denise Duval
Roland Dyens
Kirk Dyer
Ben Edmonds
Robert "Big Sonny" Edwards
David Egan
Bob Elliott
Bobby Ellis
Geneviève Elverum
Keith Emerson
Adrian Enescu
Jon English
David Enthoven
Jules Eskin
Mack Evans
Amar Ezzahi
Brian Faber
Richard Fagan
Billy Faier
Joey Feek
Jack Feierman
Thomas Fekete
Mohamed Tahar Fergani
Candice Burnside Ferguson
Brandon Ferrell
Peter Feuchtwanger
Irving Fields
Chris Finley
Kevin "Danny" Finn
Brien Fisher
Carrie Fisher
Mark Fisher aka k-punk
Charlie Fite
Micky Fitz
Jerry Wayne Flowers
Joey Floyd
James R. Fonseca
Pete Fountain
Don Francks
Dave Franklin
Gigliola Frazzoni
Bobby Freeman
Bob French
Don Friedman
Alejandro "Jano" Fuentes
Mike "Gabby" Gaborno
Juan Gabriel
Brian Gallagher
Hernán Gamboa
John Garcia
Ernesto Gauna
Dick Gautier
George Gaynes
Bruce Geduldig
Nadine Gelineau
Keith Gemmell
Gwyneth George
Sonny Geraci
David Gest
Alex Ghassan
Robin Ghosh
Mike Gibbons
Craig Gill
Mic Gillette
Hubert Giraud
Melvin Goins
Benny Golbin
Bob Goldstone
Giorgio Gomelsky
Nick Gomez-Hall
Paul Gordon
Angus R. Grant
Gogi Grant
Ron Grant
Mark Gray
Nigel Gray
Buddy Greco
Nik Green
Yates Green
Bob Grever
Ray Griff
Dale "Buffin" Griffin
Gegham Grigoryan
Don Grilley
Tammy Grimes
Christina Grimmie
Ojārs Grīnbergs
Piotr Grudzinski
Horacio Guarany
Pelle Gudmundsen-Holmgreen
Jean Paul Guerrero aka DJ Jinx Paul
Gib Guilbeau
Amber Gurung
Juan Habichuela
Merle Haggard
Andre Hajdu
Bill Ham
Ofelya Hambardzumyan
Robert Hamlett
Joe T. Haney
Ross Hannaford
Herbert Hardesty
Nikolaus Harnoncourt
Vaughn Harper
Dickie Harris
Nicholas Harris
Ricky Harris
Eddie Harsch
Alex Hartness
Ted Harvey
Jimmie Haskell
Adnan Abu Hassan
Walter Hautzig
Bill Hawkins
Jimmy Hayman
Leon Haywood
Leonard Haze
Brendan Healy
Nachum Heiman
Jerry Heller
Fred Hellerman
Bill Henderson
Edmund "Leon" Henderson
Florence Henderson
Karl Hendricks
Nat Hentoff
Bern Herbolsheimer
Ray Hesson
Hubert Dwane "Hoot" Hester
Mohammad Heydari
Joseph Hibbs
Dan Hicks
Tyruss Himes aka Big Syke
Radim Hladík
Dmytro Hnatyuk
Sara Hoda
Chip Hooper
David Horowitz
Yassy Hosseini
Travis Hough
Ken Howard
Preston Hubbard
Aaron Huffman
David Hughes aka Scabs
Karel Husa
Ali Ahmad Hussain Khan
Bobby Hutcherson
Pete Huttlinger
Johnny Igaz aka Nackt
Richie Ingui
George S. Irving
Matt Irwin
Bud Isaacs
Keiichi Ishizaka
André Isoir
Alan Jabbour
Christine Jackson
Wayne Jackson
James Jamerson Jr.
Sonny James
Junaid Jamshed
Fran Jeffries
Wilfred Jeffs aka Bill Sevesi
Karina Jensen
Ekrem Jevrić
Joan Marie Johnson
Jody Clay Johnson
Terry Johnson
Anton Jones
Denny Jones
Kacey Jones
Marshall "Rock" Jones
Randy Jones
Sharon Jones
Vic Jordan
Kevin Junior
Kitty Kallen
Eddie Kamae
Candye Kane
Paul Kantner
Oleg Karavaichuk
Oscar Karlsson
Charles Kaufman
Howard Kaufman
Michiyuki Kawashima
Mike Kellie
Bap Kennedy
Herb Kent
Jeff Kent
Amanda Allen Kershaw
Abdul Rashid Khan
Norman Killeen
James King
Biser Kirov
Carlton Kitto
Philip Kives
Sverre Kjelsberg
Thandi Klaasen
Eri Klas
Zoltán Kocsis
Samisoni Koroitamudu aka Big Makk
Bob Krasnow
Bill Kyle
Julius La Rosa
Greg Lake
Pierre Lalonde
Werner Lämmerhirt
Louis Lane
Penny Lang
Tran Lap
Edmond Lapine
Marty Laster
Dick Latessa
James Laurence
Luke Lavelle
Kevin Lawrence
Seymour Lazar
Sam Leach
Vander Lee
Jade Lemons
Deke Leonard
"Bashful Bob" Letson
Ida Levin
David Lewis
J. Reilly Lewis
Jaki Liebezeit
Joe Ligon
Richard Linke
Justin "Kid Cali" Lishey
Jane Little
Olle Ljungström
Gary Loizzo
Rufus Long
Andrew Loomis
John D. Loudermilk
Charlie "Sonny" Louvin Jr.
Sam Lovullo
Jim Lowe
Enrique "Quique" Lucca
José Lugo
Sviatoslav Luther
Mike Lyon
Richard Lyons
Lonnie Mack
Griffin Madden
William Maginnis
Timmy Makaya
Gary Malke aka Gary D.
Ursula Mamlok
Pablo Manavello
David Mancuso
Kalabhavan Mani
Marlene Marder
Joe Marillo
Léo Marjane
Micki Marlo
Neville Marriner
Rick Marroquin
Garry Marshall
Tony Martell
George Martin
Paul Martin
Ricci Martin
Bob Mason
Carlo Mastrangelo
Joseph Matlock aka Joey Casio
Denise Matthews aka Vanity
Ireng Maulana
Gisela May
Jason Adrian McCarty aka Dilatedears
Bobby Lee McCollum
Gayle McCormick
Jim McCoy
Henry McCullough
Hugh McDonald
Fred McFarlane
Draven McGill
Sidney "Doc" McKay
John McKellen
Sean McKeough
Jeff McLaren
John McMartin
Kevin Meaney
Gustav Meier
Getachew Mekurya
José Menese
Nick Menza
Lewis Merenstein
Louis Meyers
George Michael
Rusty Michael
Frankie Michaels
Billy Miller
Fergus Miller
Jack Miller
Ned Miller
Lawrence Minors
Pete Mitchell
Ivan Mogull
Habib Mohebian
Michael Mohede
Chips Moman
Fernando J. Montilla
Scotty Moore
Memo Morales
Mariano Mores
Jennifer Morris
John Morthland
Robert Motherbaugh Sr. aka General Boy
Greg Motycka
Hubert Mounier aka Cleet Boris
Alphonse Mouzon
Otto-Werner Mueller
Edgar Muenzer
Edoardo Müller
Ronald "Bingo" Mundy
Patrice Munsel
Frank Murray
Ernie Myers
Guy Nadon
Asami Nagakiya
Hiroko Nakamura
Billy Name
Emilio Navaira
Arthur Nayyar
James M. Nederlander
Tonio Neuhaus
Andy "Thunderclap" Newman
Geoff Nicholls
Aurèle Nicolet
Josefin Nilsson
Maralin Niska
Marni Nixon
Fredrik Noren
Lola Novaković
Frank Noya
Peter Nthwane
Munyaradzi Nyemba
Russell Oberlin
Hod O'Brien
Lee O'Denat aka Q
Claus Ogerman
Milt Okun
Pauline Oliveros
Horacio Olivo
William Onyeabor
Rudy Osborne
Olumuyiwa Osinuga aka Nomoreloss
Guido Osorio
Johnny P
David Page
Robert Page
Earl Paige
Robert Paiste
Pantelis Pantelidis
Jerry Clyde Paradis
Margaret Pardee
Laurent Pardo
Rick Parfitt
Don Parmley
Ioan Gyuri Pascu
Anne Pashley
Billy Paul
Joyce Paul
Robert Paulson aka Cadalack Ron
Gary S. Paxton
Larry Payton
Stewart Pearce
Lou Pearlman
Sandy Pearlman
Trisco Pearson
Betsy Pecanins
Mike Pedicin
Harry Peel
Cauby Peixoto
Juan Peña aka El Lebrijano
Jean-Jacques Perrey
Roberta Peters
Erik Peterson
Trever Peterson
Marilyn Petrone
Lorenzo Piani
David B. Pigg
Nelson Pinedo
Feral Pines
Adrian Posse
Curtis Potter
Sylvester Potts
Freddy Powers
Joey Powers
A.V. Prakash
Georges Prêtre
Bill Price
Prince
Roland Prince
Tavín Pumarejo
Curly Putman
Howard Quilling
Ismael Quintana
Gustavo "El Loco" Quintero
Harry Rabinowitz
Brian Rading
Richard Fay "Buck" Rambo
Bobby Ramirez aka DTTX
Elkin Ramírez
Alfonso Ramos
Doug Raney
Gordon Ranney
Einojuhani Rautavaara
Gil Ray
Esma Redžepova
Hans Reffert
Clarence Reid aka Blowfly
Alberto Remedios
Kimi "Qiao" Renliang
Wolfgang Renner
Joanna Reyes
Debbie Reynolds
Peter Reynolds
George Reznik
Sir Mack Rice
Roberto "Snaffu" Rigor
Jimmy Riley
Jean-Claude Risset
Matt Roberts
Floyd Robinson
Maggie Roche
Thomas Round
Allan Rouse
Eugeniusz Rudnik
Ben Runnels
Leon Russell
Keli May Rutledge
Karel Ruzicka Sr.
Phil Ryan
Lotte Rysanek-Doerle
Amjad Sabri
Michael Sacha
Peter Sadlo
Morley Safer
Adam Sagan
Veena Sahasrabuddhe
Kashif Saleem
Horacio Salgán
Larry Salinas
Ramon "Chunky" Sanchez
William "Sonny" Sanders
Peter Sarstedt
Andréanne Sasseville
Bob Saxton
Mike Scap
Heinrich Schiff
Ramblin' Lou Schriver
Dorothy "Dottie" Schwartz
Elliott Schwartz
Larry Scott
Johnny Sea
Tom Searle
Derek Serpell-Morris aka DJ Derek
Afeni Shakur
Garry Shandling
Ross Shapiro
Farhang Sharif
Charles "Bobo" Shaw
Jean Shepard
Rose L. Shure
Nicole Siegrist aka Denalda Nicole Renae
Eddy Silitonga
Gabriele Sima
Noel "Scully" Simms
William Sims
Frank Sinatra Jr.
Raynoma Gordy Singleton
Tom Size
Michael Sklar
Joe Skyward
Dale Sledd
Vasyl Slipak
Tsvi Small
Vertamae Smart-Grosvenor
Brett Smiley
Derek Smith
Doug Smith
Gregg Smith
Louis Smith
Rickey Smith
Earl Smith Jr. aka DJ Spank Spank
Paul Smoker
David Smyrl
Gilli Smyth
Danny Smythe
Barry Socher
Leif Solberg
Tamás Somló
Om Prakash Sonik aka Omi
Riki Sorsa
Sam Spence
Marc Spitz
Elton Spitzer
John Stabb
Ralph Stanley
Kay Starr
Chuck Stearman
Jeremy Steig
Larry Steinbachek
Lewis "Lewie" Steinberg
Rick Steiner
Chuck Stewart
Louis Stewart
Mary Stewart
Michael Stewart
Fred Stobaugh
Jadranka Stojaković
Chris Stone
Steven Stucky
Vi Subversa
Jonathan Sutter aka Tenor Fly
Dave Swarbrick
Michele Sylvan
Mark Taimanov
Ab Tamboer
Jennifer Kiyomi Tanouye
Gordie Tapp
B.E. Taylor
Betty Loo Taylor
Malik Taylor aka Phife Dawg
Mike "Taffy" Taylor
Mieke Telkamp
Joe Temperley
Rod Temperton
Manolo Tena
Gianmaria Testa
Alan Thicke
Toots Thielemans
John Thomas
Marvell Thomas
Sir Charles Thompson
Rex Thompson
Elliot Tiber
Lupe Tijerina
T.J. Tindall
Taylor Tolle
Isao Tomita
Fred Tomlinson
Veljo Tormis
Royal Torrence aka Little Royal
Dominique Trenier
Richard Trentlage
John Trickett
Greg Trooper
Butch Trucks
Mduduzi "Mandoza" Tshabalala
Bob Tubert
Robert Tuggle
Charlie Tuna
Tommy Turner
L.C. Ulmer
Pat Upton
Chayito Valdez
Ramon "Boo" Valdez
Rudy Van Gelder
Vincent Van Haaff
Karl David Van Hoesen
Jimmie Van Zant
Richard "Rick" Vanaugh
Naná Vasconcelos
Palani Vaughan
Colin Vearncombe aka Black
Bobby Vee
Alan Vega
Alex Vega
Les Waas
Freddie Wadling
Carlos Walker aka Shawty Lo
Don Waller
Eddy Wally
Bob Walsh
Conor Walsh
Bunny Walters
Ann Ward
Chris Warren
Rob Wasserman
Tyriece Watson aka Lor Scoota
Pete Overend Watts
Fritz Weaver
Fred Weisz
Bobby Wellins
Papa Wemba
Jacques Werup
John Wetton
June Whisnant
Donald H. White
Maurice White
Ruth White
Trentavious White aka Bankroll Fresh
Max Wilcox
Gene Wilder
Monty Lee Wilkes
Allan Williams
Kim Williams
Mentor Williams
Toni Williams
Bob Williamson
Claude Williamson
Ruby Wilson
Gerhard Wimberger
Jeff Windisch
Alan Wise
Brandon Chase Wittenauer
Elliot Wolff
Victoria Wood
James Woolley
Bernie Worrell
Martha Wright
Rick Wright
Steve Wright
Zhou Xiaoyan
Glenn Yarbrough
Pete Yellin
Nora York
Adam Young
Jimmy Young
Steve Young (Colourbox co-founder)
Steve Young (country singer/songwriter)
Umy Youngblood
Robert "Bob" Younts
Mick Zane
Bernard Zaslav
Allan Zavod
Pete Zorn
https://www.sonnyjames.com/hof/wp-content/uploads/grammys-2017-in-memoriam.jpg
428
721
Admin
http://www.sonnyjames.com/hof/wp-content/uploads/nuvine-wpheader-logo.png
Admin
2017-02-13 00:29:59
2020-08-20 15:49:01
2017 Grammy Awards Highlight Sonny James In Memoriam