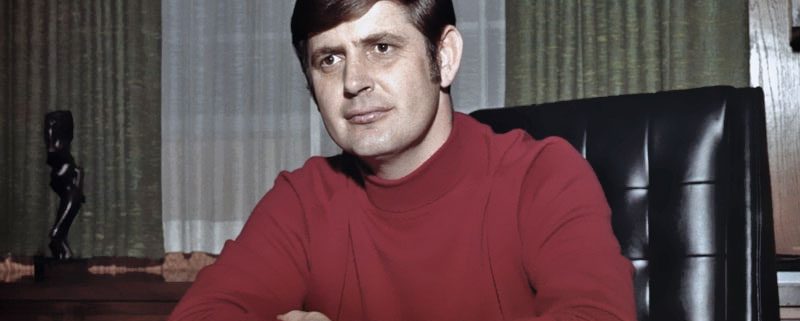 A lifelong beloved hometown friend of Sonny has passed. Legendary record producer and Fame studio owner Rick Hall, the man regarded as the "Father of Muscle Shoals Music," died early Tuesday morning on January 2, 2018. Rick was 85.
We mourn his passing and offer our deepest condolences to his family.
Rick's Grammy-winning production talents and drive touched nearly every genre of popular music from country to R&B, and his Fame Studio and publishing company were a breeding ground for future legends in the worlds of songwriting and session work, as well as a recording home to some of the greatest musicians and recording artists of all time, including Aretha Franklin, Etta James, Wilson Pickett and many more. To date, the studio and its publishing company have been responsible for an estimated 350 million record sales, with songs by everyone from the Beatles to George Strait.
In a phone conversation with Rick on July 29th 2016 which would last over an hour, Rick and Gary Robble reminisced about Sonny and the special friendship and times the two had spent together both fishing the Tennessee River and working in the studio over many occasions. Although it's never really been noted here or anywhere else, during a struggling time in Sonny's career long after "Young Love", in 1962 Sonny and Doris had moved back home to Hackleburg, AL from Hollywood, CA. It was also a time when Rick was building his new FAME Studio however he still had his original studio up and running but just wasn't producing any official projects at that time as the new building was his primary focus. With Sonny back home and Rick in transition to his new studio, the two would meet up at the old studio and with Sonny on guitar and vocals, and Rick on bass and vocals, the two would work for a few hours getting ideas down on tape but only after they had spent the mornings fishing. During the conversation Rick made a point to mention how he and Sonny were like brothers when they were together.
With the successes which would soon follow in Sonny's career beginning in 1963, there is no doubt Sonny's use of R&B material was greatly influenced during these private sessions with Rick and the confidence this provided Sonny in taking these ideas further would soon become a historic direction for Sonny's career culminating in a streak of 16 consecutive #1's. A streak which would not have been accomplished without the R&B songs and influence of Rick Hall.
During what would become the last visit of Sonny to my home for a few hours of organizing some business and story telling, I had specifically shared with Sonny how amazing it would have been if in the late 1970's he had simply gone home to Hackleburg and recorded up the road in Muscle Shoals while turning to Rick as his Producer. The two of them could have put down some very serious guitar based R&B in Sonny's unique country style but with Rick pushing the edge of that envelope as only he could do. In that moment, Sonny agreed with his boyish smile. But I got the overwhelming sense that the two had already been there and done that — together.
Following Sonny's passing Rick gave the following gracious interview to local Muscle Shoals paper, Times Daily:
https://www.sonnyjames.com/hof/wp-content/uploads/rick-hall.jpg
450
800
Admin
http://www.sonnyjames.com/hof/wp-content/uploads/nuvine-wpheader-logo.png
Admin
2018-01-02 15:17:06
2019-01-04 14:19:13
Celebrating A Hometown Friend: Rick Hall