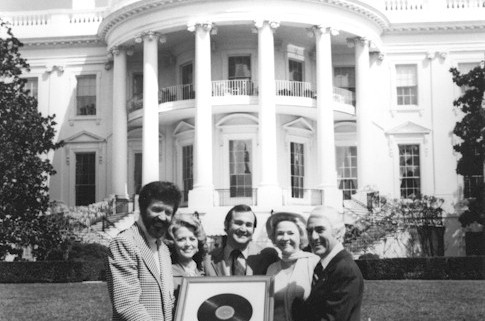 Sonny James: The Southern Gentleman (1995)
Originally Published December 12, 1995 in Nash Country Weekly
Paul Ladd | Published: May 16, 2012
---
When you think about the all-time superstars of country music, the name Sonny James may not immediately pop into your mind. But Sonny, known as "The Southern Gentleman," was a megastar, reeling off an incredible 16 No. 1 hits in a row.
No one's done that before or since — and it's doubtful anyone ever will.
To hear Sonny talk, with that gentle voice and modest, unassuming manner, you'd never suspect he was the Garth Brooks of his day.
In a remarkable career spanning more than 30 years, Sonny's amazing achievements have earned him a secure place in the history of country music.
True, Garth's sold more records than Sonny ever did; Eddy Arnold's had more hits; and Conway Twitty had more No. 1 songs. But nobody except Sonny has ever put 16 *consecutive* hits at the top of the *Billboard* country charts.
And that didn't even count his first No. 1 — monster hit "Young Love" — in 1957.
Born James Hugh Loden on May 1, 1929, in Hackleburg, Ala., Sonny got his first guitar, which was handmade by his father, when he was only 3 years old.
"It's true, and that guitar is now in the Country Music Hall of Fame," Sonny told COUNTRY WEEKLY, with quiet pride in his voice.
From age 4 on, Sonny sang with his sister Thelma and his parents, Della and Archie — "Everyone knew them as Mom and Pop" — in the Loden Family group. He had his own radio show when he was still a teenager.
After serving in the Korean War with his activated National Guard unit, Sonny was discharged in 1952 and went to Nashville to visit his old buddy Chet Atkins.
"I met Chet when I was a teenager," Sonny recalled. "In fact, we roomed together in Raleigh, North Carolina, when we were playing at the same radio station.
"When I got out of the Army, I spent a week with Chet and his wife in Nashville. He introduced me to his friend Ken Nelson, who was with Capitol Records.
"After dinner, Chet and I began woodshedding on our guitars. We played a few songs I had written, then Chet turned to Ken and said, `What do you think, Ken?' And Ken said, `I'd like to record him.' " That was the start of Sonny's fabulous career. Billed as the Southern Gentleman because of his tall, elegant appearance and gracious manner, Sonny racked up a total of 23 No. 1 hits between 1957's "Young Love" and 1974's "Is It Wrong (For Loving You)".
"Young Love," was also a sensational crossover success, and soared to No. 1 on both the country and pop charts.
But it wasn't until 1967 that Sonny launched his incredible streak of 16 chart-busters in a row. The No. 1s included:
1967 — "Need You," "I'll Never Find Another You" and "It's The Little Things."
1968 — "A World Of Our Own," "Heaven Says Hello" and "Born To Be With You."
1969 — "Only The Lonely," "Running Bear" and "Since I Met You, Baby."
1970 — "It's Just A Matter Of Time," "My Love" "Don't Keep Me Hangin' On" and "Endlessly."
1971 — "Empty Arms," "Bright Lights, Big City" and "Here Comes Honey Again."
What was it that made Sonny so popular? The 66-year-old living legend, now retired and living with his wife, Doris, in Nashville, paused before answering.
"I always tried to do material that fit me," he explained. "We'd do a variety of material — ballads, up-tempo and even bluesy songs — but I stayed the same. I tried to give the fans the kind of songs they had come to expect. I think that was the reason I had such success."
Sonny's friend, Grand Ole Opry star Jim Ed Brown, agreed: "He knew his voice and he knew his music. He's a good man."
In 1973, Sonny changed hats and became a producer, turning out Marie Osmond's cover of the pop oldie "Paper Roses." It became Marie's first hit record, crossed over to the pop charts and virtually launched her career.
https://www.sonnyjames.com/hof/wp-content/uploads/12.jpg
548
485
Admin
http://www.sonnyjames.com/hof/wp-content/uploads/nuvine-wpheader-logo.png
Admin
2006-12-12 14:55:32
2015-09-24 07:09:18
Nash Country Weekly 1995