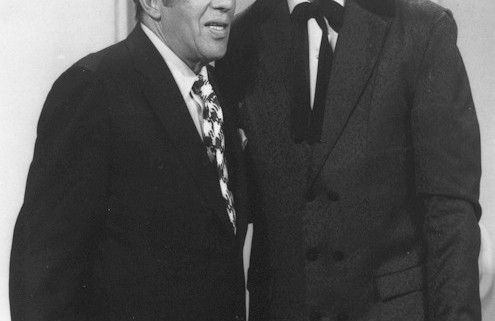 Article originally published by CMT on November 1, 2006
Edward Morris is a veteran of country music journalism and is a frequent contributor to CMT.com.
---
Sonny James isn't giving interviews. But don't get the wrong idea. He isn't playing hard to get just because he's being inducted into the Country Music Hall of Fame Monday night (Nov. 6). The problem is he can hardly talk.
"I'm doing OK," he says in a barely audible whisper when he returns CMT.com's call. "This is something that just came up. What happened is they gave me too much medicine in the [throat] muscles. It's not my voice [that's impaired] — it's the muscles on either side. I was supposed to be like this for about a week, but it's been almost three months. It's driving me crazy."
James gasps out a few more reassuring words, vows he will do the interview when his voice returns and refers the questioner to his old friend, music business mogul Mike Curb, for further biographical revelations. "He knows more about me than I do," James promises.
Unless you were listening to country music before the 1980s, you may be a bit fuzzy about just who Sonny James is. But between the early 1950s and the late 1970s, he was a musical colossus. During that period, he racked up 23 No. 1 hits — 16 of them consecutive ones — and an additional 19 Top 10s.
Dubbed "the Southern Gentleman" because of his dapper appearance and courtly manners, James frequently performed his hits on major network variety programs, including The Ed Sullivan Show, The Bob Hope Show and The Jimmy Dean Show. If gaining visibility for country music had been the sole criterion for admission, James would have been comfortably ensconced in the Hall of Fame decades ago.
Born James Hugh Loden in Hackleburg, Ala. on May 1, 1929, he grew up in a performing household. He got his first guitar when he was 3 — a handmade gift from his father — and quickly mastered both that instrument and the fiddle. The Loden Family — James, his parents and his four sisters — toured extensively in its home area and had its own live radio show in Birmingham.
Prior to securing a contract with Capitol Records in 1952, James worked such star-incubating country shows as the Louisiana Hayride in Shreveport and The Big D Jamboree in Dallas. He also spent 15 months serving in the Korean War.
After Chet Atkins helped him get his Capitol deal, James proved his worth by making a Top 10 debut in 1953 with the single "That's Me Without You." He continued to chart in the higher regions for the next three years. Then, near the end of 1956, Capitol released what would prove to be James' career-making song, "Young Love."
"Young Love" arrived just as rock 'n' roll was beginning to flex its muscles and the teen market was emerging as a distinct and powerful buying force. Although he was by this time a ripe 27, James delivered the song's dreamy lyrics with such tender adolescent sincerity that it raced to the top of the country and pop charts in early 1957. It stayed at No. 1 on the country chart for nine weeks.
While the song gave James an enduring identity, it wasn't exactly his key to the kingdom. He continued to chart consistently and well but didn't score another No. 1 until "You're the Only World I Know" peaked in early 1965. The song held the summit for four weeks.
Following that achievement, the No. 1s and Top 5s rolled in — "I'll Keep Holding On (Just to Your Love)," "Behind the Tear," "True Love's a Blessing," "Take Good Care of Her" and "Room in Your Heart."
Starting with "Need You" in 1967, James launched a record of consecutive No. 1 country songs that wouldn't be broken until 1985 when his fellow homestaters, Alabama, steamed past him with its 17th "consecutive" chart-topper, "Forty Hour Week (For a Livin'). Ever the gentleman, James showed up to congratulate the band when it officially celebrated the occasion.
It should be said here that Alabama (who outpaced James) and Earl Thomas Conley (who matched James' string of No. 1's) did so only via some creative accounting. Joel Whitburn, who tallies up, classifies and publishes Billboard's chart declarations, decided he would not count "Christmas hits, re-issues, B-sides and duos (unless they add to the streak)."
If Whitburn hadn't made these exclusions, James would still have the longest consecutive stretch. Alabama's "Christmas in Dixie," which came out in 1982 and stalled at No. 35, ended the band's string of straight No. 1's at eight, strictly speaking. Conley has his train of 16 only if you ignore his duets with Gus Hardin and Anita Pointer, neither of which reached the top. James' achievement record is unblemished by such anomalies.
Among James' parade of 16, which lasted until 1972, are such durable gems as "I'll Never Find Another You," "A World of Our Own," "Born to Be With You" and "It's Just a Matter of Time."
James moved from Capitol to Columbia Records in 1972 and made a big splash out of the box with "When the Snow Is on the Roses," which went No. 1. His final No. 1 — at least to date — came two years later with "Is It Wrong for Loving You."
In 1973, James showed another side of his musical savvy by producing Marie Osmond's first solo hit, "Paper Roses." It went to No. 1 on the country chart and No. 5 on the pop chart.
Even with his top singles behind him, the affable singer continued to release evocative and memorable music through the remainder of the decade — tunes such as "A Mi Eposa Con Amor (To My Wife With Love)," "Little Band of Gold" and "You're Free to Go."
After leaving Columbia, James recorded for Monument and the short-lived Dimension Records. He last charted in 1983 with one of his own songs, "A Free Roamin' Mind." In the intervening years, little was heard from or about the singer other than words of praise from dyed-in-the-wool country fans.
But in 2002, Country Radio Broadcasters presented James with its Career Achievement Award, an honor reserved for such premier entertainers as Dolly Parton, Reba McEntire and the aforesaid Alabama.
Mike Curb, James's long-time friend and musical colleague, made the presentation. He pointed out that James had shown a particular talent for successfully adapting songs from other formats to country audiences, and he added, in no uncertain terms, that James ought to be in the Country Music Hall of Fame. Now it's assured he will be.
https://www.sonnyjames.com/hof/wp-content/uploads/18.jpg
647
495
Admin
http://www.sonnyjames.com/hof/wp-content/uploads/nuvine-wpheader-logo.png
Admin
2006-11-15 08:42:29
2015-09-24 07:09:53
Sonny James Caps Hit-Rich Career With Hall of Fame Entry